Photo by K.Uchida
In today's post, the second part of the series Ki-Yan's Kyoto – Washoku restaurants, cafés & shops, I am happy to introduce two branches of the popular chain of tonkatsu (breaded pork cutlets) restaurants Katsukura in Kyoto – the Katsukura Kyoto Station branch and Katsukura Higashinotoin branch. In both branches you have the chance to try the famous Katsukura's specialty menus, such as tonkatsu, oebikatsu (prawn cutlets) or yubakatsu (tofu-skinned cutlets) and of course also to experience the amazing mural art by Kyoto artist Ki-Yan (see my previous blog post for more info!)
Let's start from the newest branch, the Katsukura Kyoto Station branch, worth trying especially if you are arriving at Kyoto and are very hungry for food… and art!
When you arrive at Kyoto station, head on straight to the 11th floor of Kyoto Station's The Cube Food Court (just inside the Kyoto Station Building) and when walking through the floor watch out for the blue shishigatani pumpkin dancing on the wall – if you spot that, you can't miss Katsukura!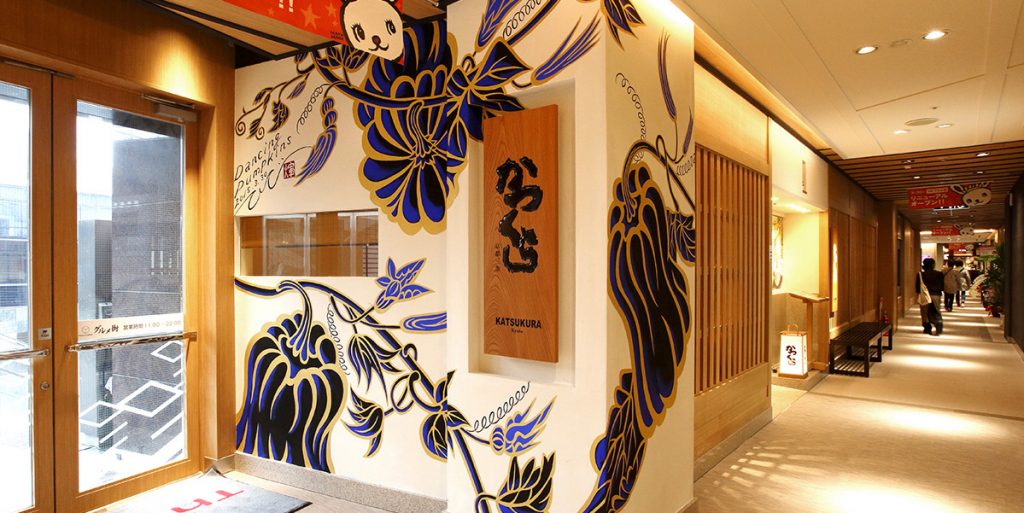 Photo by K.Uchida
In order to serve larger numbers of foreign guests, the already popular Katsukura reopened its Kyoto Station branch after renovation in March 2015. The tonkatsu restaurant not only increased its number of seats, but also its English speaking staff. Here you can enjoy Ki-Yan's mural, completed for the reopening with kyo-yasai (Kyoto vegetables) motifs – there are impressive ultramarine blue shishigatani pumpkins on the restaurant's outside walls and deep yellow 'lucky bottle gourds' inside the restaurant.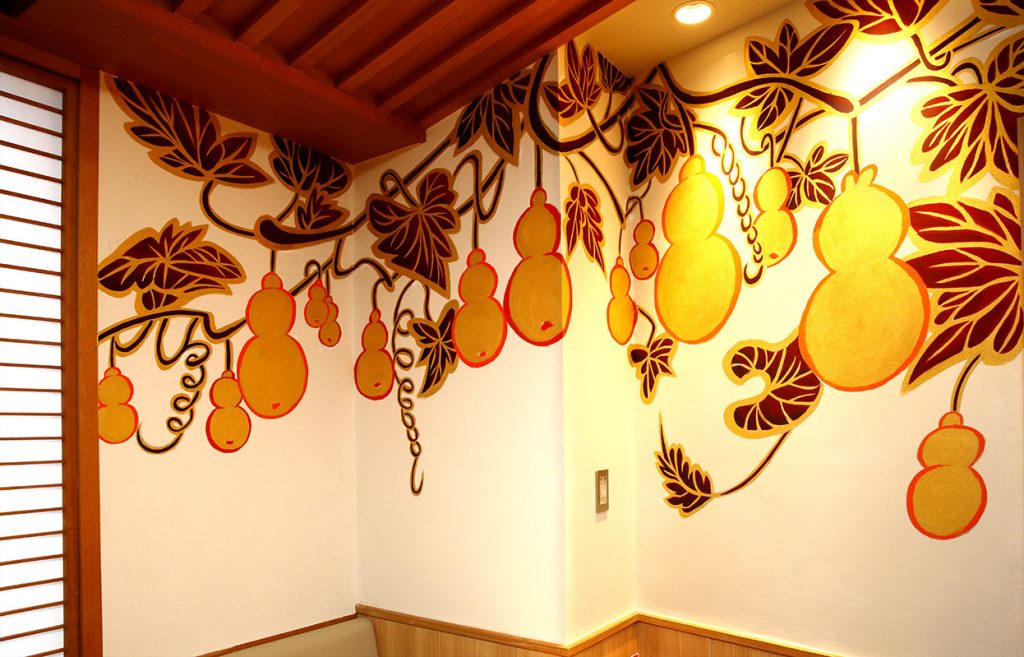 Photo by K.Uchida
Did you know that in 2015 Katsukura ranked 12th in TripAdvisor's top 30 restaurants in Kyoto?
Actually Katsukura, which originated in Kyoto, has become a popular tonkatsu chain restaurant, thanks to its healthy ingredients and the light and crispy texture of its fried foods.
So take a seat, order your meal (English menu available!) and while waiting for your food take a look at the walls.
Photo by K.Uchida
Katsukura's signature style is its 'DIY tare sauce' – you can grind your own sesame seeds while waiting for the crispy mains.
Then, mix the fragrant, freshly ground sesame with a sauce of your choice to make your own tare sauce.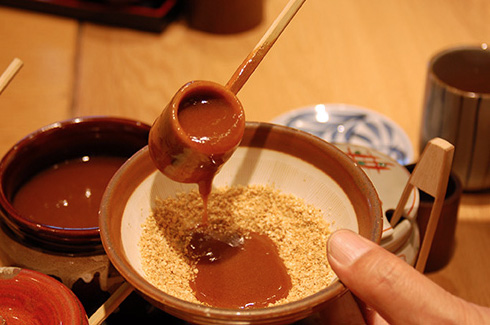 The unbeatable dipping sauces are: Katsukura's original sauce, spicy sauce and yuzu salad dressing.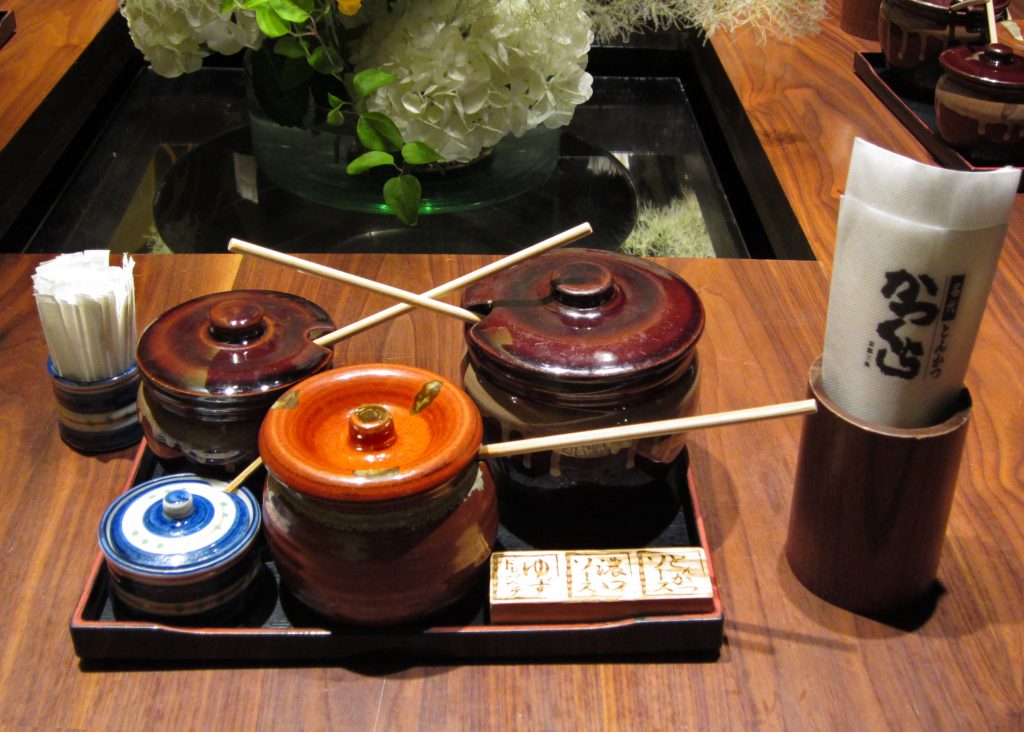 Don't worry! Katsukura provides the English explanation for all the condiments and dips.
So now you are ready for the mains: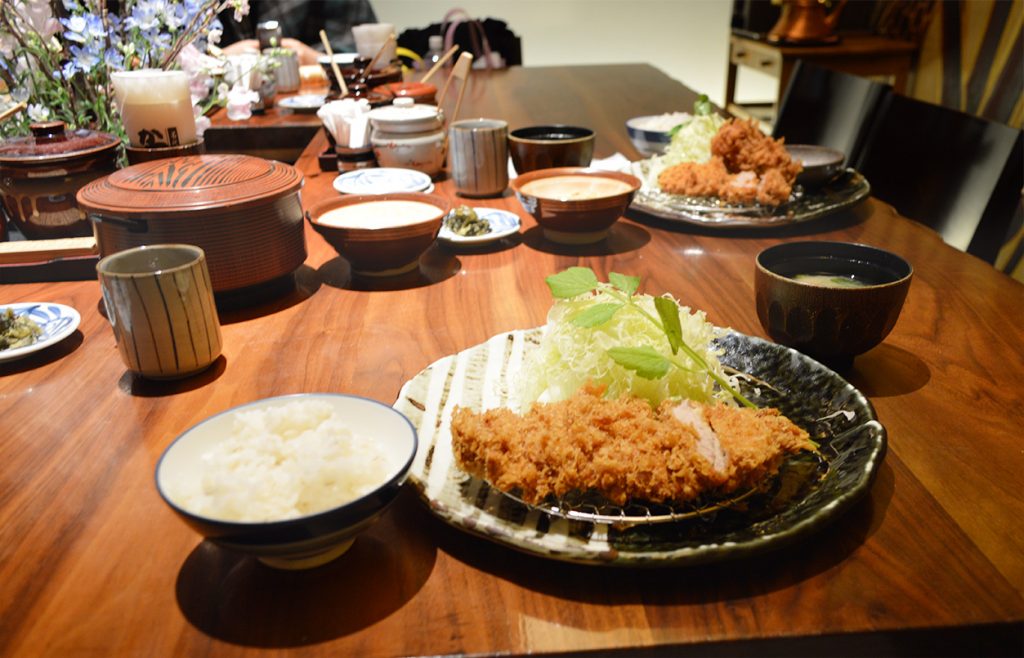 Photo: Tonkatsu Zen meal set. All the sets come with free refills of miso soup, barley rice and shredded cabbage!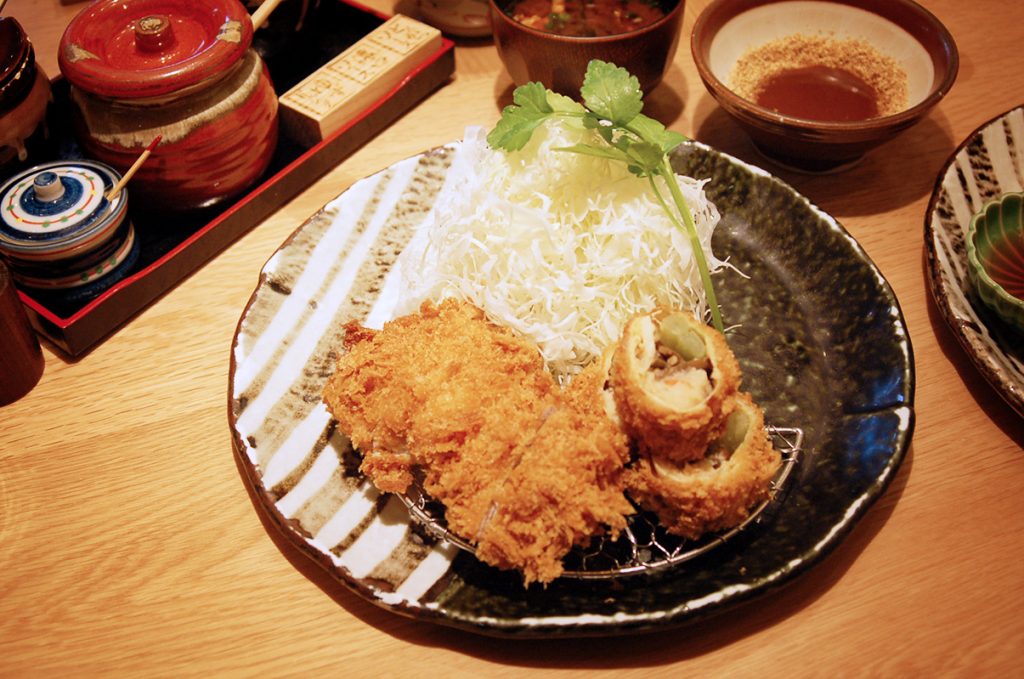 Photo: Seasonal Zen meal set.
Or another choice – the famous Katsukura Zen set menu: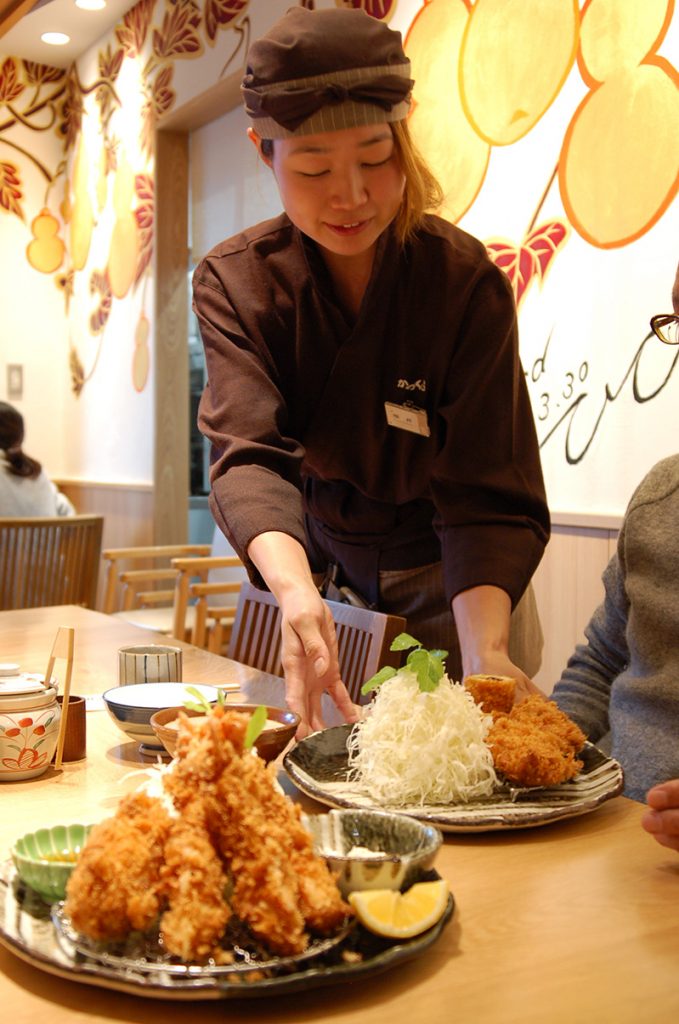 Now, you've already become a fan of Katsukura and Ki-Yan, you're in the Kyoto's Downtown area and suddenly hungry again! What should you do?
There is another option for you: Katsukura Higashinotoin branch, close to the Shijo Station and Daimaru department store, just turn north from Shijo into Higashinotoin street.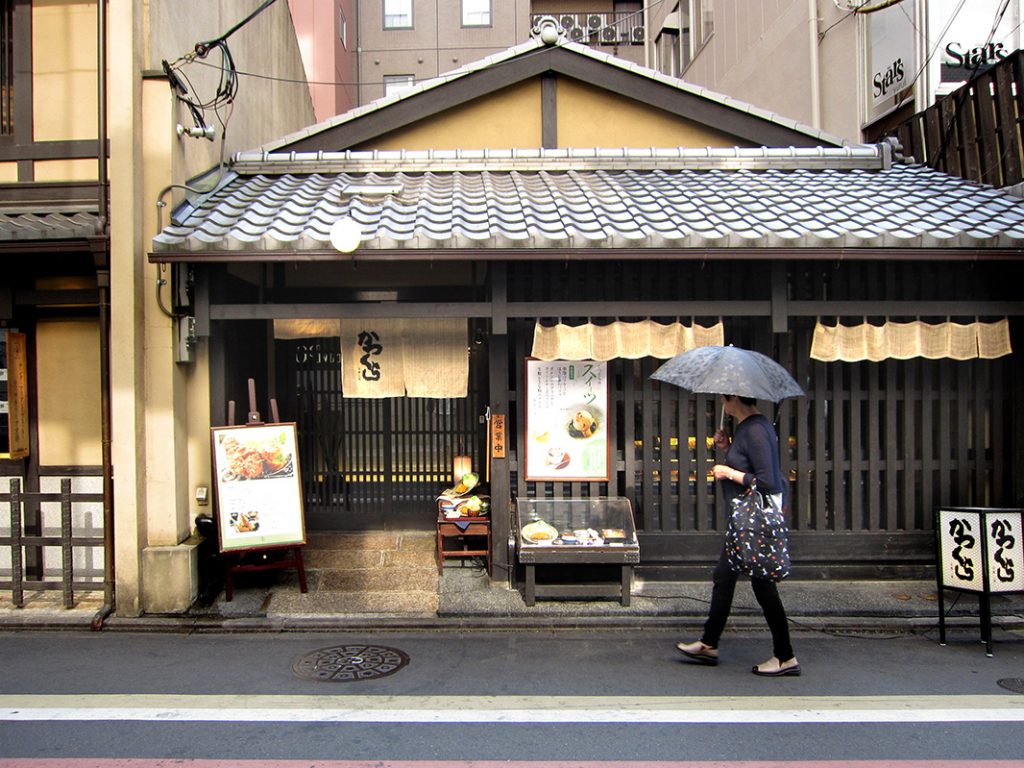 You will find here the same menu, same 'Katsukura style', same sauces as in the Katsukura Kyoto Station branch, but Ki-Yan's mural is different!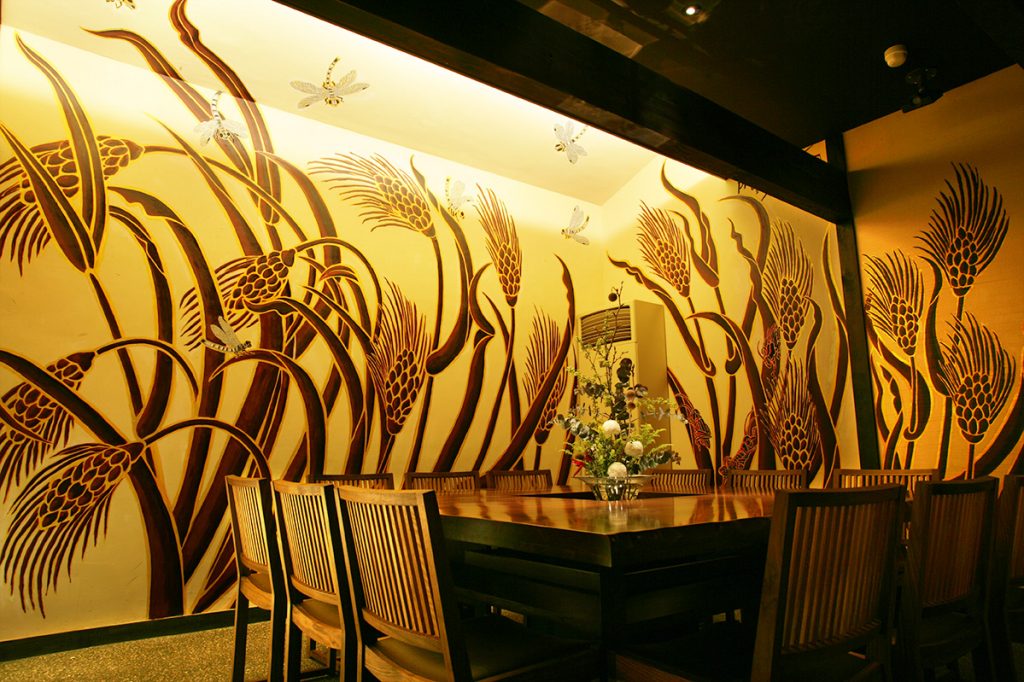 Photo by K.Uchida
Ki-Yan painted the mural The Praise of Barleycorn at Katsukura's Higashinotoin branch in 2005. The barley motif, a symbol of fertility, comes from the signature style of Katsukura's rice – cooked with barley. Ki-Yan's mural painting was commissioned for the restaurant's reopening and completed in an extremely short time, just before the Gion Festival. Even members of Katsukura's head office's design department needed to work trough the night to complete the project on time. One of them, the Nihonga artist Shujiro Takeda, quit his job at Katsukura and eventually became member of Team Ki-Yan!
By the way, Ki-Yan's barleycorn motifs are also found on lampshades in this branch: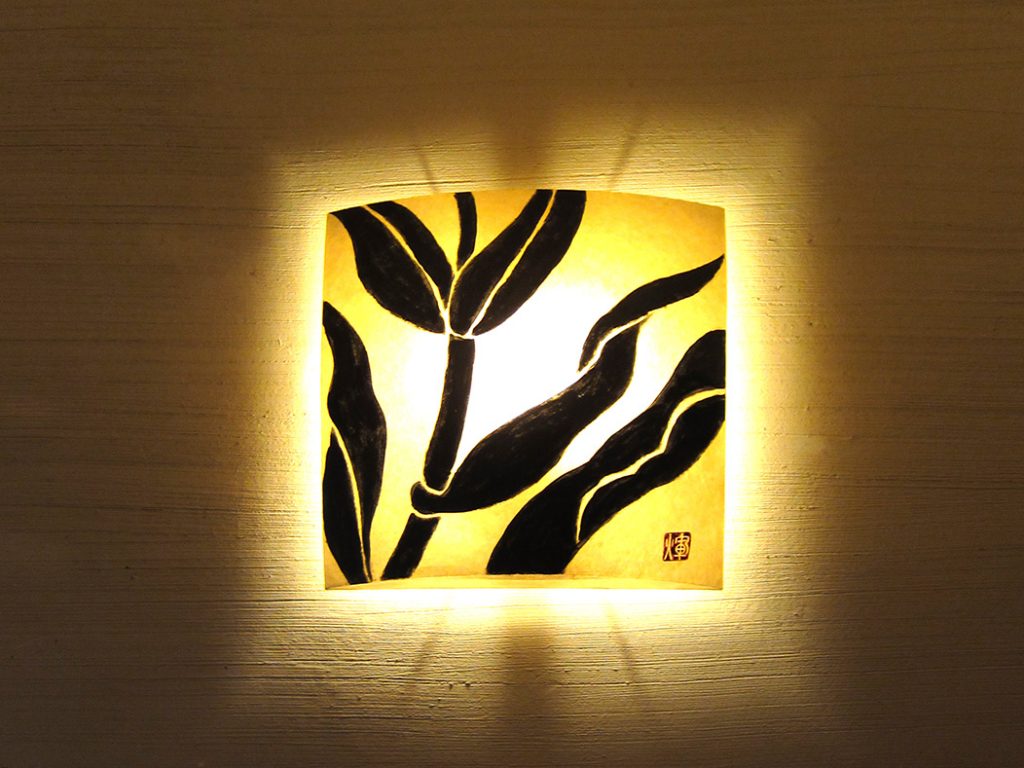 I hope you enjoyed this post and if you want more information about Ki-Yan and Washoku restaurants (more shop details, maps in English etc.) head on to see the book Ki-Yan's Kyoto Food & Art, which is recently also available in Sydney bookstores: Books Kinokuniya, MCA Store, Art Gallery of NSW, Gleebooks, Better Read Than Dead, The Cross Art + Books, Radio Free Alice and coming soon at Published Art.
And for more info about the book visit happydarumacreative.com
The series Ki-Yan's Kyoto – Washoku restaurants, cafes & shops continue, so look forward to it!