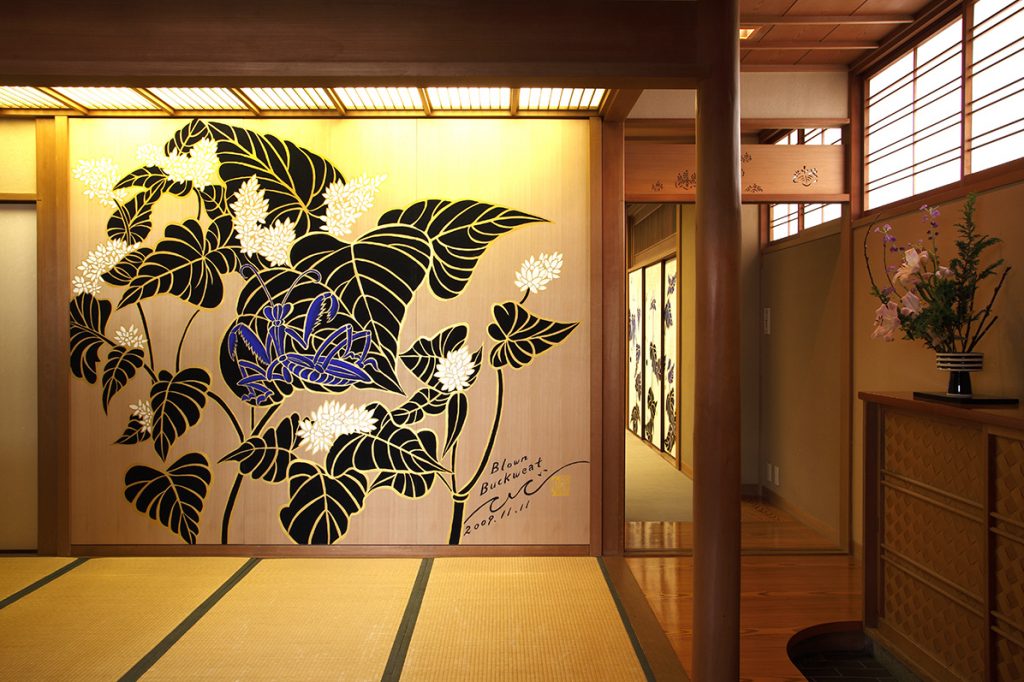 Photo by K.Uchida
Today's post is the third part of the series Ki-Yan's Kyoto – Washoku restaurants, café & shops, and this time I am happy to introduce one of the best places in Kyoto to try homemade soba buckwheat noodles Gontaro – its main branch is located in Shinkyogoku shopping district in Kyoto's downtown. You will find other branches of Gonatro in Kinkakuji and Okazaki as well, but the main branch is the only one you can encounter the amazing mural art by Kyoto artist Ki-Yan (see my first blog post of the series for more info!).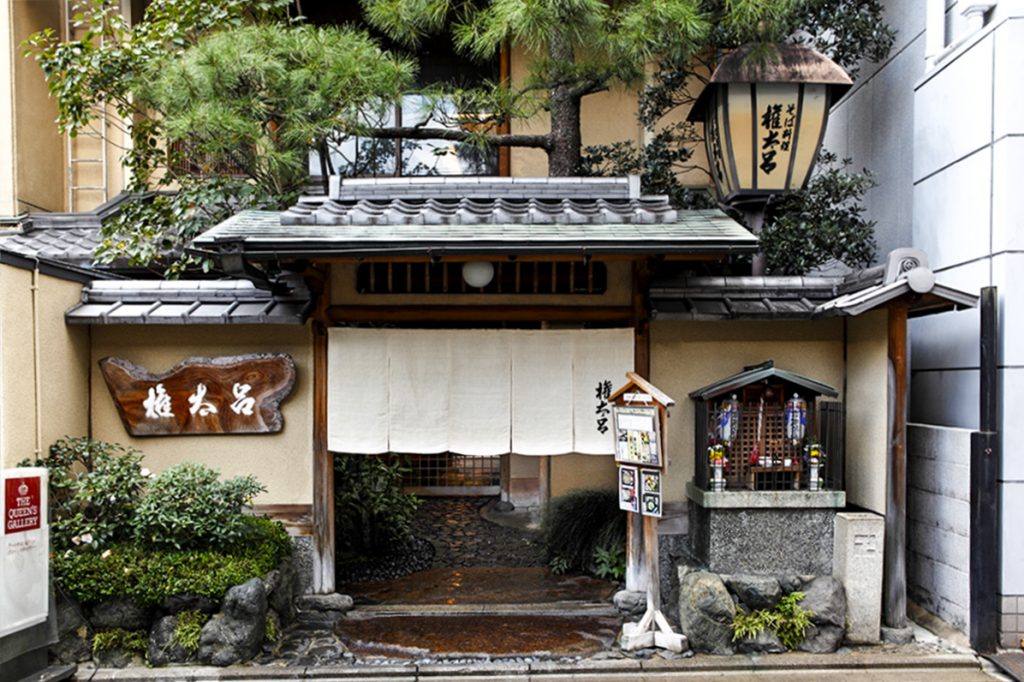 Photo by K.Uchida
Close to Daimaru department store, the main branch of Gontaro is located in a modern building with an authentic sukiya-zukuri (an architectural style based on tea house aesthetics) style interior. Just upon entering the restaurant you will forget the hustle and bustle of downtown Kyoto, and indulge in the relaxing old style Kyoto-like atmosphere. The main branch of Gonatro features both table sittings as well as Japanese style tatami rooms and the restaurant provides English menus.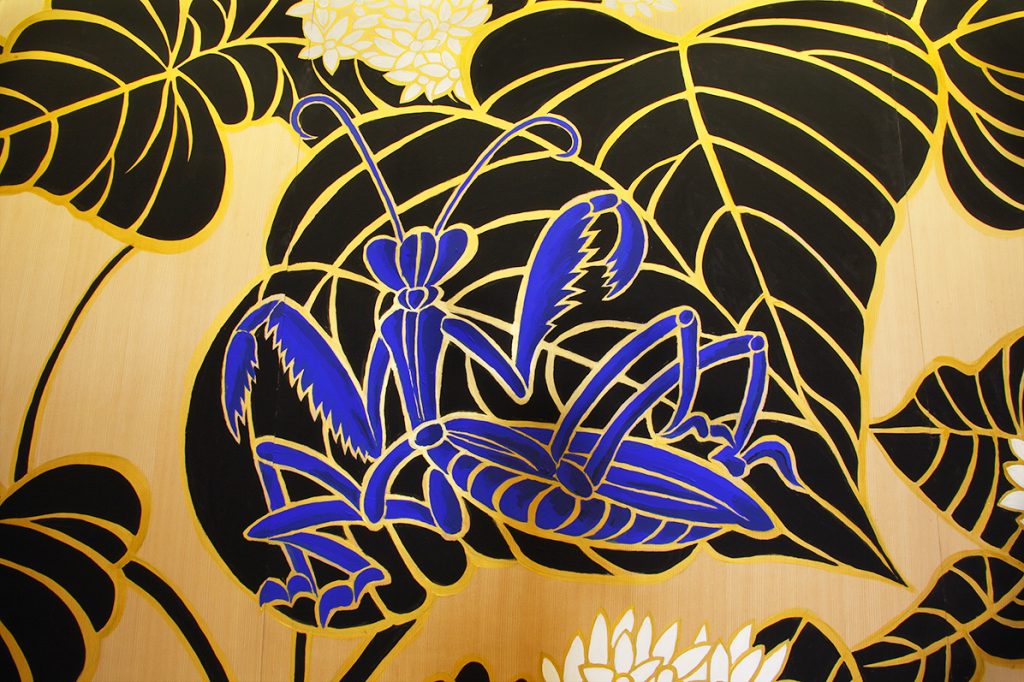 Photo by K.Uchida
To see the motif of the huge flashy ultramarine blue kamakiri (praying mantis) sitting on a buckwheat leaf, go to the third floor before taking a seat to eat. Outlined in gold (Ki-Yan's signature style) this insect's appearance is magical! There is a story that while thinking about the composition for paintings for Gontaro, a praying mantis jumped into Ki-Yan's house, and the artist spontaneously decided to feature the insect as well.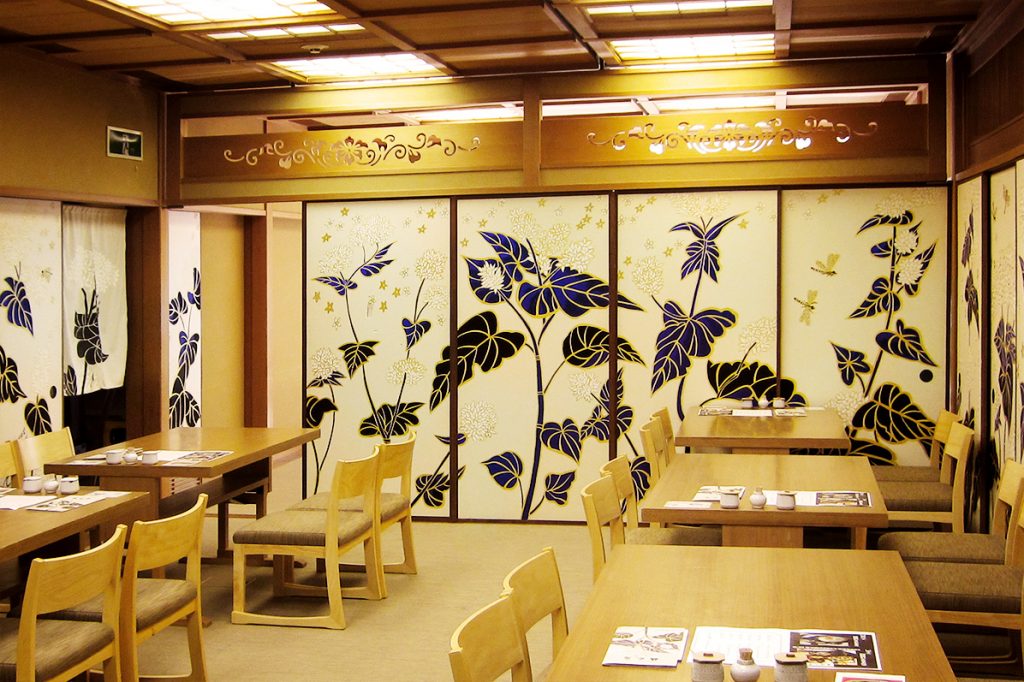 You will find all Ki-Yan's paintings of buckwheat flowers with the English title of the artwork "Blown Buckwheat" on the walls and on the sliding doors on the third floor. The motifs are also featured on noren (material that hangs in doorways) and the restaurant's menu! These paintings are based on sketches Ki-Yan drew while in Gontaro's own buckwheat fields.
Impressed enough by the art on the walls and doors, head on to order one of the most popular dishes at Gontaro, the Tenzaru soba set, cold buckwheat noodles with hot tempura and dipping sauce served in a beautiful lacquered container: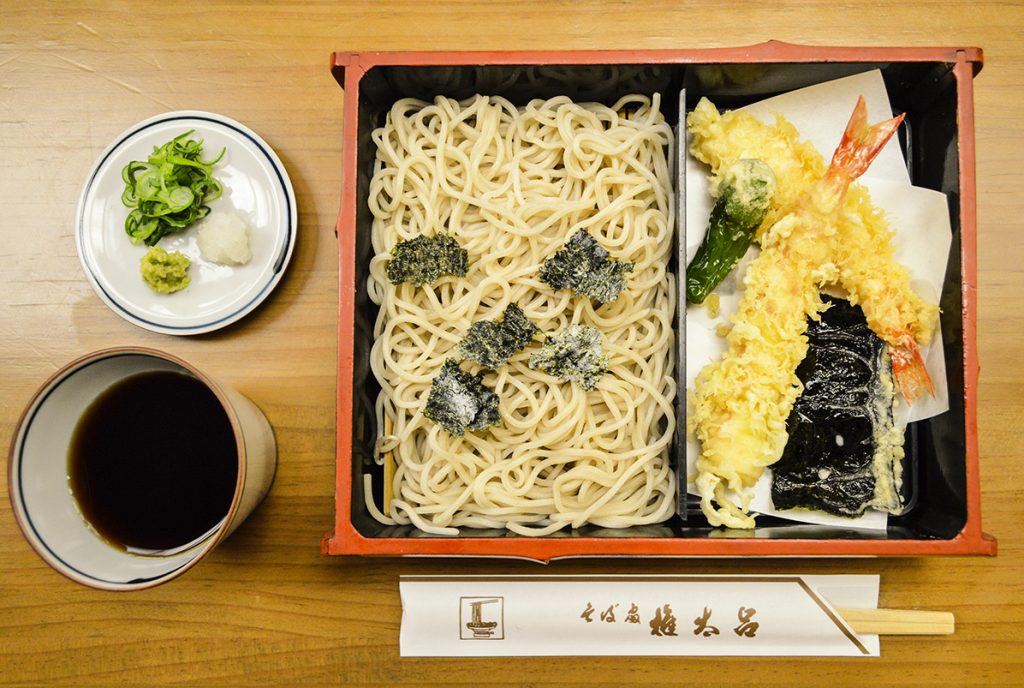 Another choice would be Kamo-nanban soba (soba buckwheat noodles with soft duck meat and negi spring onion), a popular Gontaro's dish: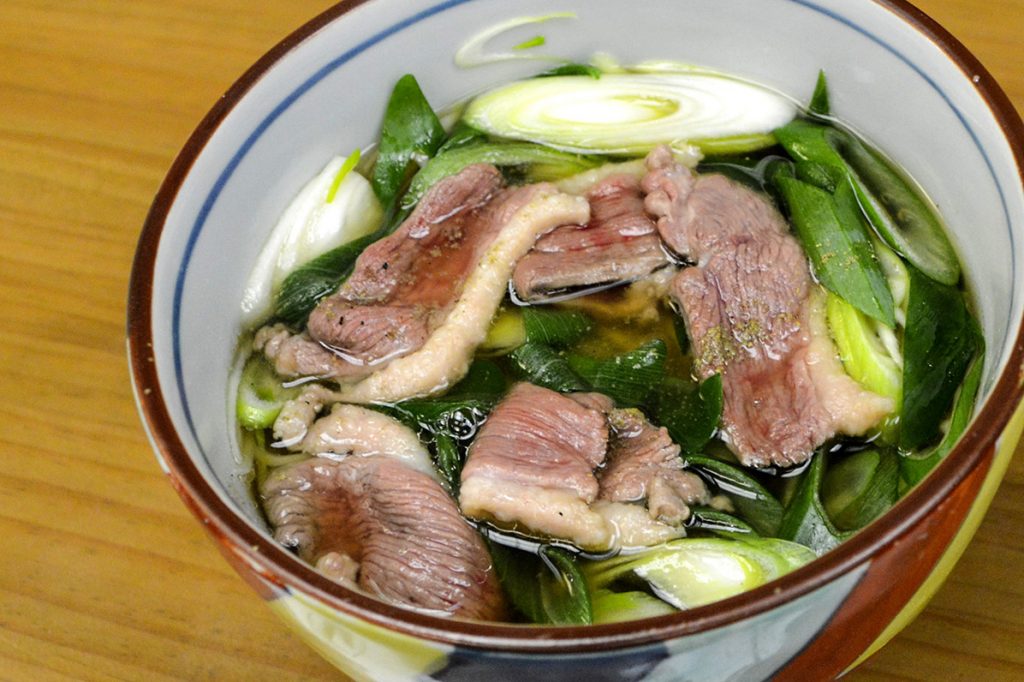 Gontaro prides themselves in their dashi – a homemade soup stock made of carefully selected kombu and mackerel flakes prepared fresh every morning. Enjoy the umami taste of the dashi in the Famous Gontaro Hot Pot, udon noodle soup or other soba buckwheat noodle soups.
The restaurant has also a wide selection of other dishes, such as rice bowls toped with yakitori or tempura to choose from, but how about Japanese sweets for dessert?
The waitress wearing a traditional indigo dyed kasuri splash pattern apron and speaking perfect Kyoto dialect will ensure your every need is taken care of!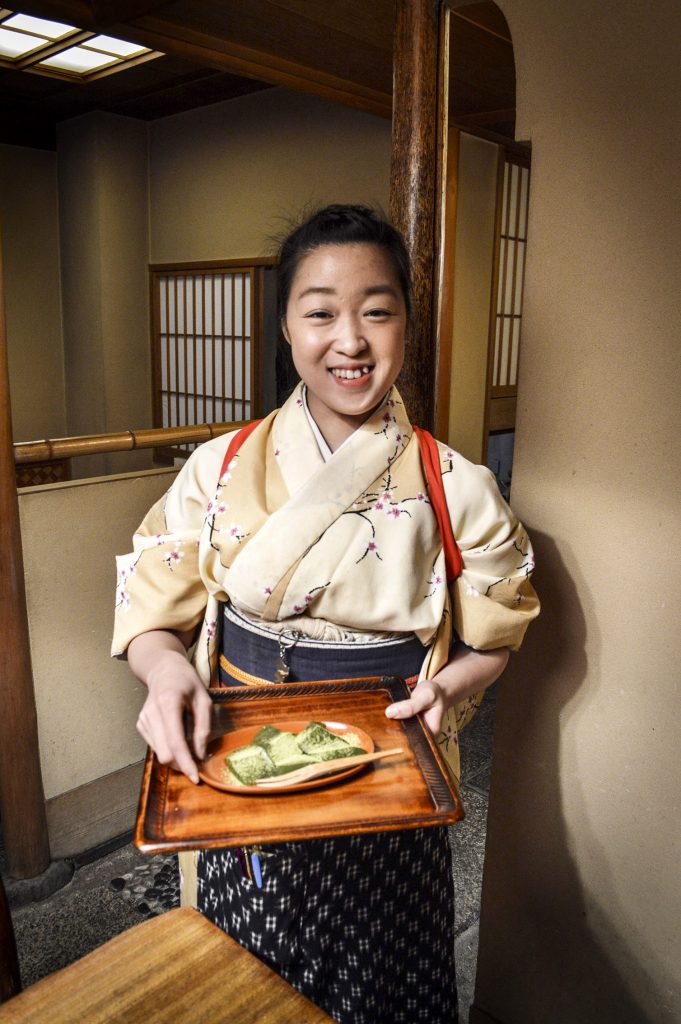 Photo by K.Uchida
Definitely try the homemade and melting in the mouth matcha warabi mochi (matcha flavored Japanese confection made from bracken starch):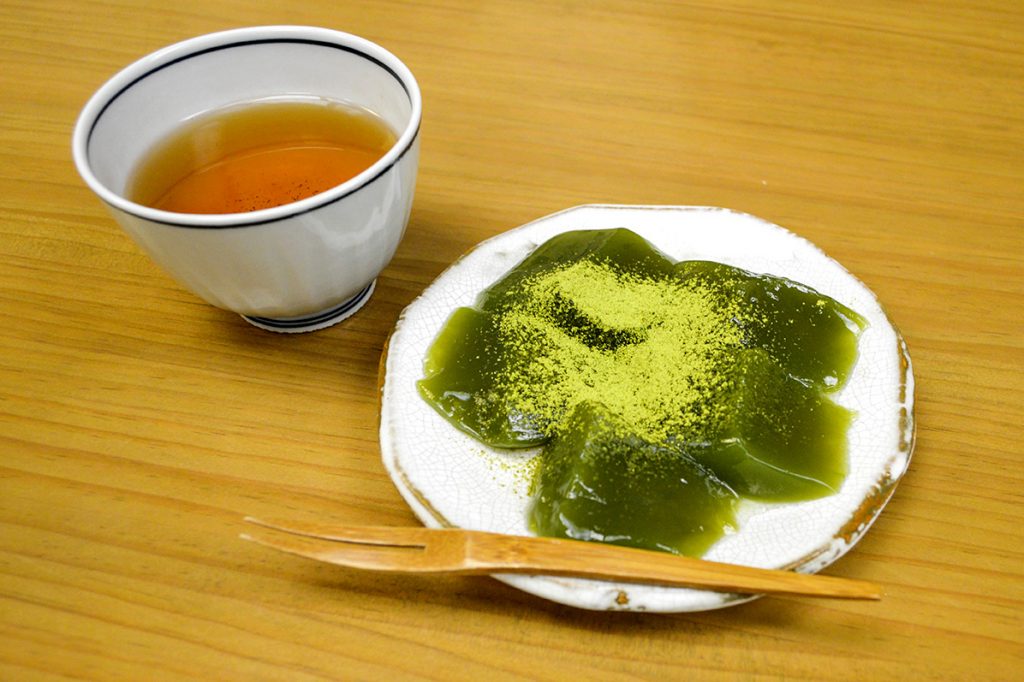 And if you liked the warabimochi for more variety go to Hourandou (see the Hourandou post)!
I hope you enjoyed today's post too and if you want more information about Ki-Yan and Washoku restaurants (more shop details, maps in English etc.) head on to get the book Ki-Yan's Kyoto Food & Art, which is recently available in Sydney bookstores: Books Kinokuniya, MCA Store, Art Gallery of NSW, Gleebooks, Better Read Than Dead, The Cross Art + Books, and Radio Free Alice.
And for more info about the book visit:
The series Ki-Yan's Kyoto – Washoku restaurants, cafes & shops continue, Ki-Yan's Kyoto Part 4 is coming soon!