Photo by K.Uchida
Today's post is part number 4 of the series Ki-Yan's Kyoto – Washoku restaurants, café & shops this time introducing Adachi – a cozy family-run Kyoto obanzai restaurant. Read part one, part two, and part three if you missed them!
Just as a reminder (and information for new readers as well) – in this series I am sharing with you some Washoku restaurants, cafes and shops located in Kyoto, which are introduced in my latest book Ki-Yan's Kyoto Food & Art Explore Kyoto through the Artwork of a Japanese Pop Artist, an English – Japanese pictorial guidebook featuring the amazing mural art by a contemporary Japanese pop artist Ki-Yan (Hideki Kimura). Just before moving to Sydney while still in Kyoto, I encountered Ki-Yan and his spectacular artwork that eventually resulted in collaborating on publishing this book. You can find more information about the book and my other works on happydarumacreative.com
The book is available in a number of Sydney's bookstores, so check it out!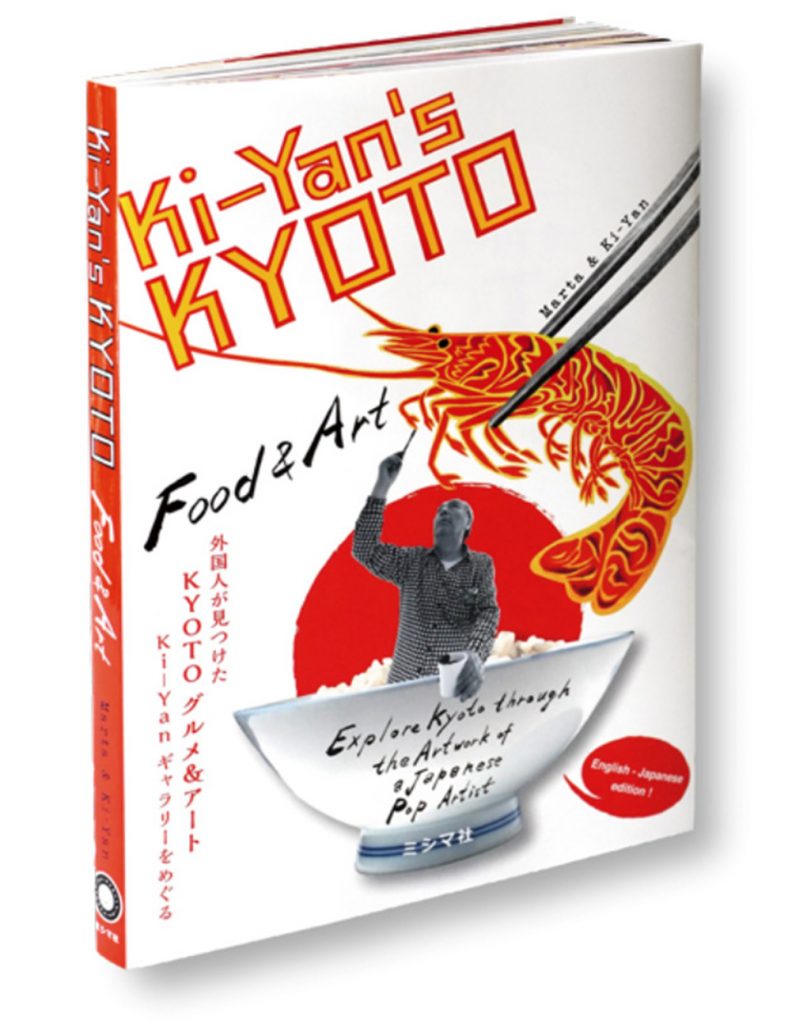 So, if you travel to Kyoto, Japan, thanks to this guidebook you will have the opportunity to enjoy a different "face" of Kyoto – not only enjoying the delicious Japanese food in these restaurants but also experiencing the colourful and unique murals by Ki-Yan!
The family owned and run Adachi is a perfect lunch or dinner place if you are sightseeing around Nijo Castle – it's just 10 minutes walk from JR Nijo Station or 2 minutes walk from Senbonmarutamachi bus stop.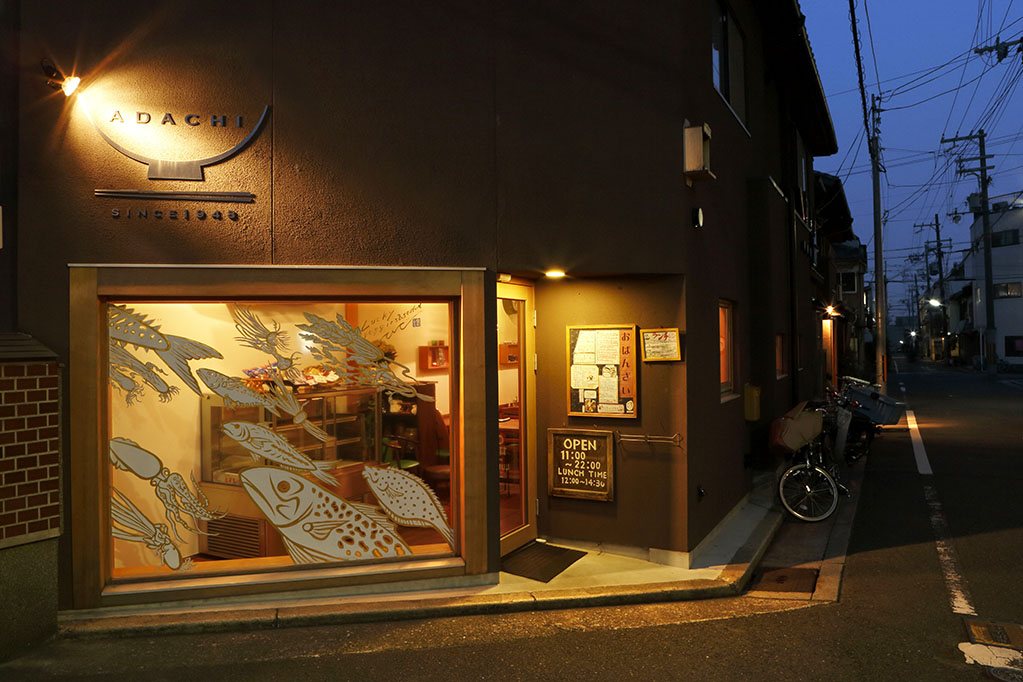 Photo by K.Uchida
The restaurant was founded in 1951 by the great-grand father of the current owner, and it offers mainly obanzai style Japanese, Chinese and Western homemade dishes.
Do you know obanzai?
Obanzai is a traditional and simple home-style of Japanese cuisine native to Kyoto. In order for food to be considered obanzai, at least half of its ingredients must be produced or processed in Kyoto. Obanzai cooking heavily relies on fresh, seasonable ingredients, mainly local vegetables and seafood. It is made up of multiple small dishes that are usually quite simple to prepare.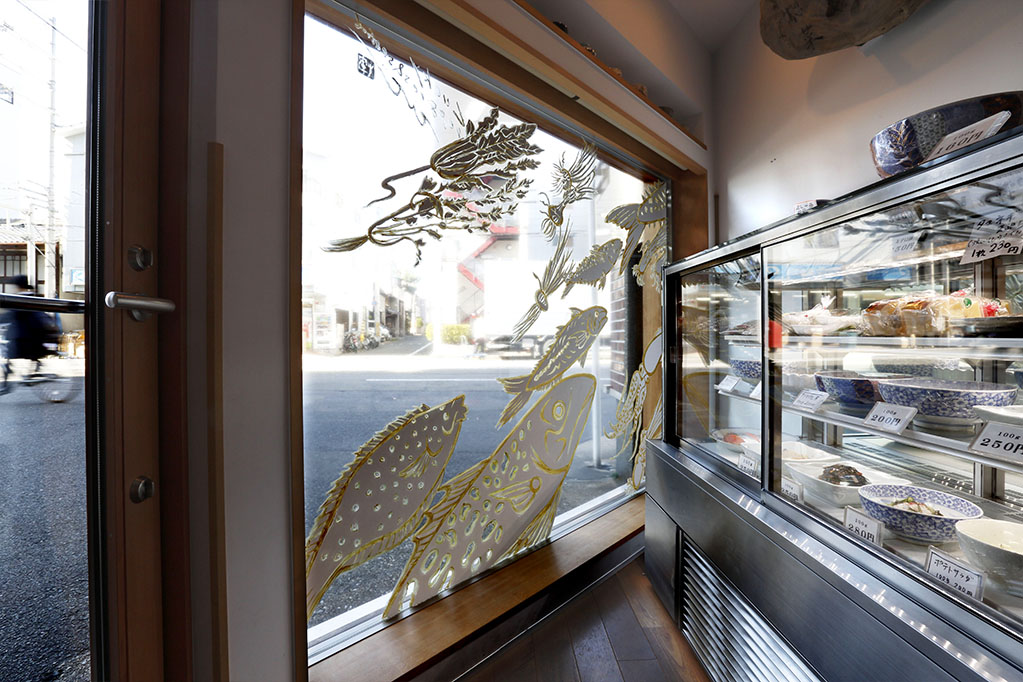 Photo by K.Uchida
You can find a lot of obanzai restaurants in Kyoto but Adachi has an especially relaxed and friendly atmosphere thanks to the lovely host family and this is enhanced by Ki-Yan's murals – the flying kyo-yasai (Kyoto vegetables) paintings inside the restaurant and impressive seafood images on the iconic front window, which makes it a unique place to enjoy the delicious homemade Kyoto cuisine and the artistic interior!
Just upon entering the cozy restaurant you will find a wide selection of reasonably priced obanzai dishes, which are displayed in a glass cabinet and also sold by weight available as takeaway.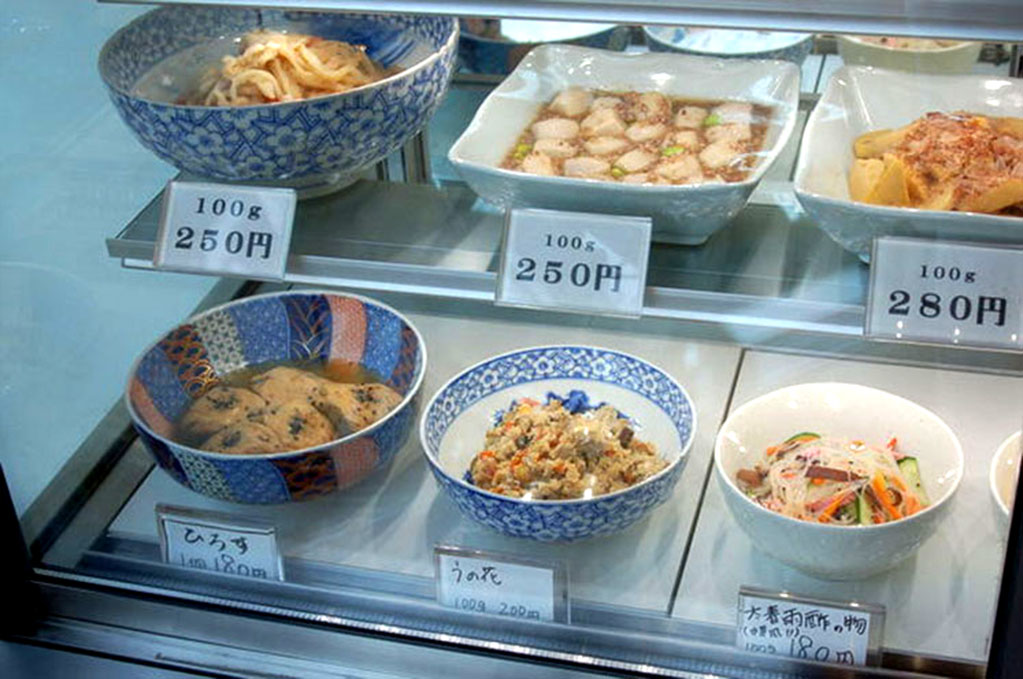 You can try the popular obanzai dishes;
takenoko bamboo shoots with bonito flakes,
hirousu (in Kansai or ganmodoki in Kanto) – tofu fritters soaked in dashi and soy sauce based broth,
unohana – sautéed okara (the leftover product in the production of tofu) with vegetables,
futoharusame sunomono – Chinese style pickled salad with thick vermicelli,
yakibifun – stir-fried vermicelli,
enoki-no bainiku ae – a cooked salad with enoki mushroom and umeboshi paste and many more!
Or select six from the obanzai dishes, add rice and a main dish in a bento box to eat in or takeaway.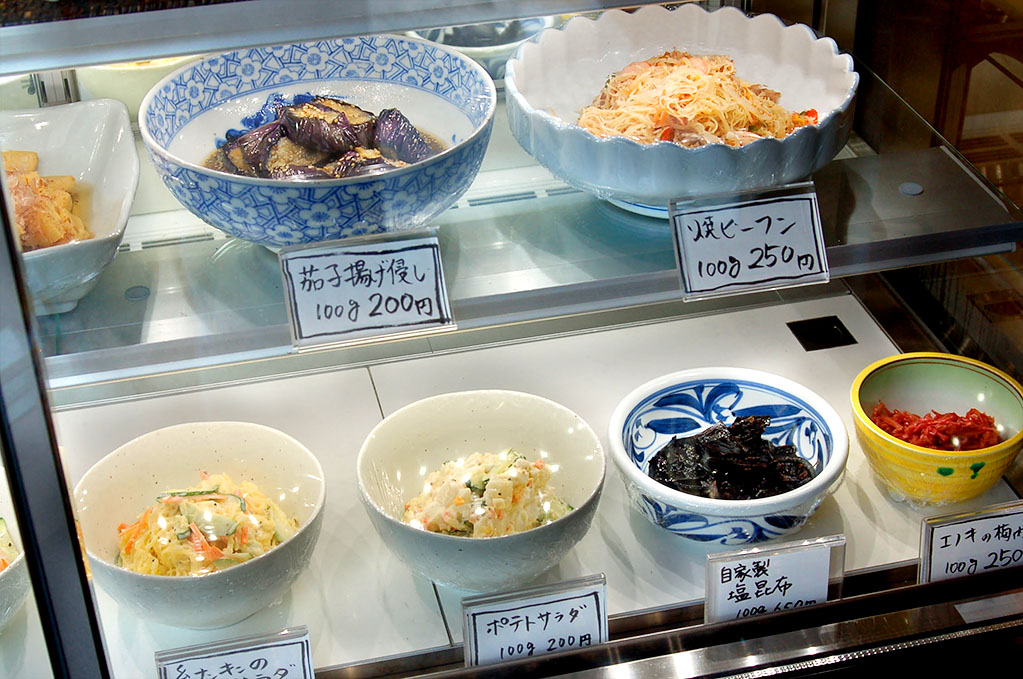 Lunch sets include your choice of three obanzai dishes and one daily special served with rice and miso soup. Here I had fried chicken and fish assorted plate with satoimo soboro ankake – satoimo taro root with minced chicken ankake sauce, nasu eggplant agebitashi – deep-fried eggplant soaked in light dashi and soy sauce based broth and potato salad.
For an extra 100 yen you can add tea or coffee to your lunch set.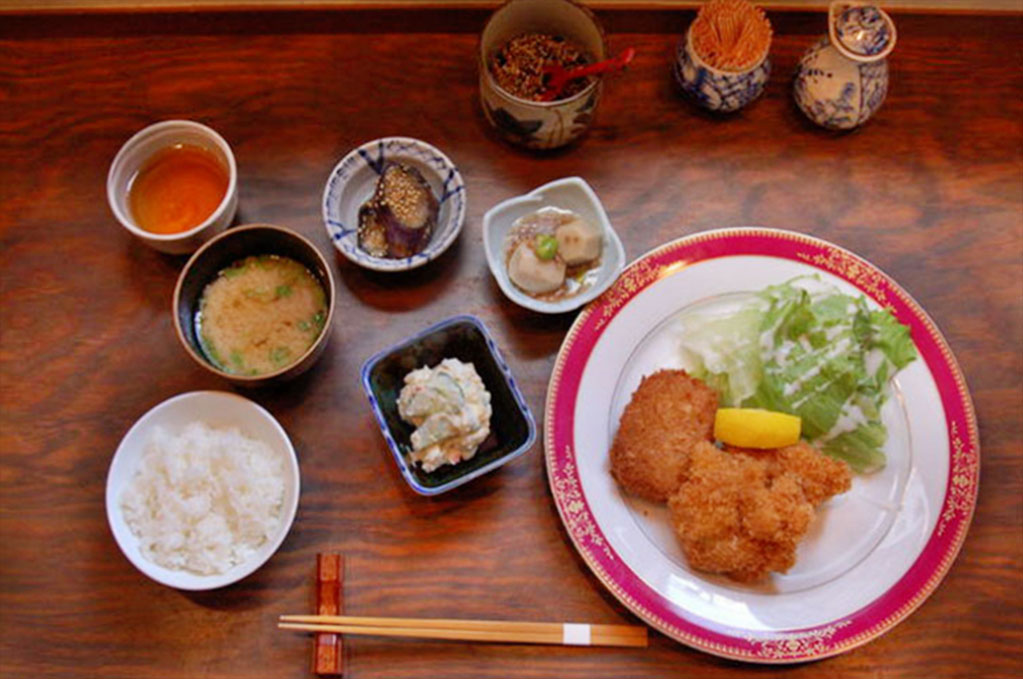 And don't forget to sprinkle the delicious wasabi furikake seasoning on your rice!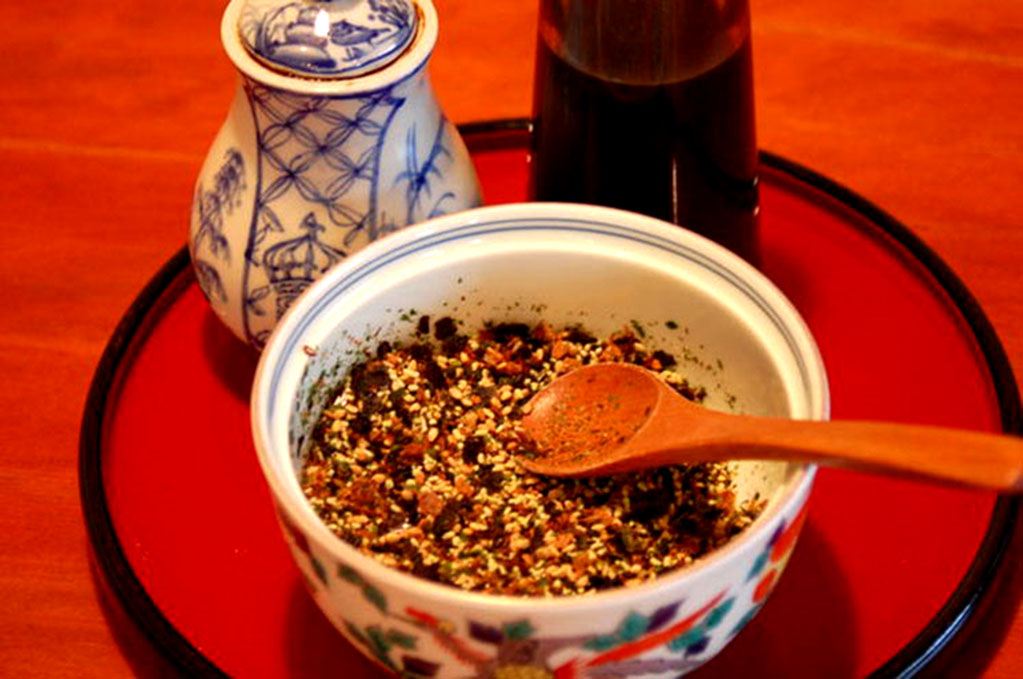 Adachi has maintained its popularity among locals as well as domestic and foreign tourists for its fresh and reasonably priced obanzai dishes, but started to attract even more customers after the completion of Ki-Yan's work titled "Lucky veggies & seafood" in March 2014. The mural displays dancing Kyoto vegetables on the restaurant's walls – Chinese cabbage, manganji pepper, ebiimo (a kind of taro) and different kinds of mushrooms used in obanzai cuisine.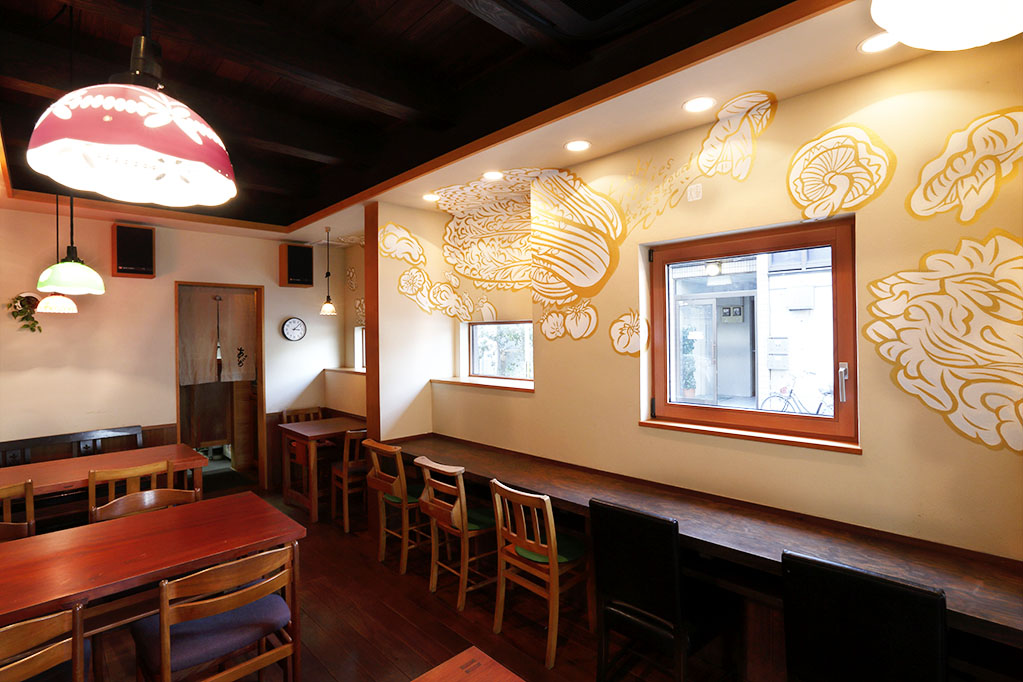 Photo by K.Uchida
Personally selected by the fourth generation owner, the interior's lampshades and furniture are a collection of rare vintage pieces. The result is a retro and nostalgic atmosphere.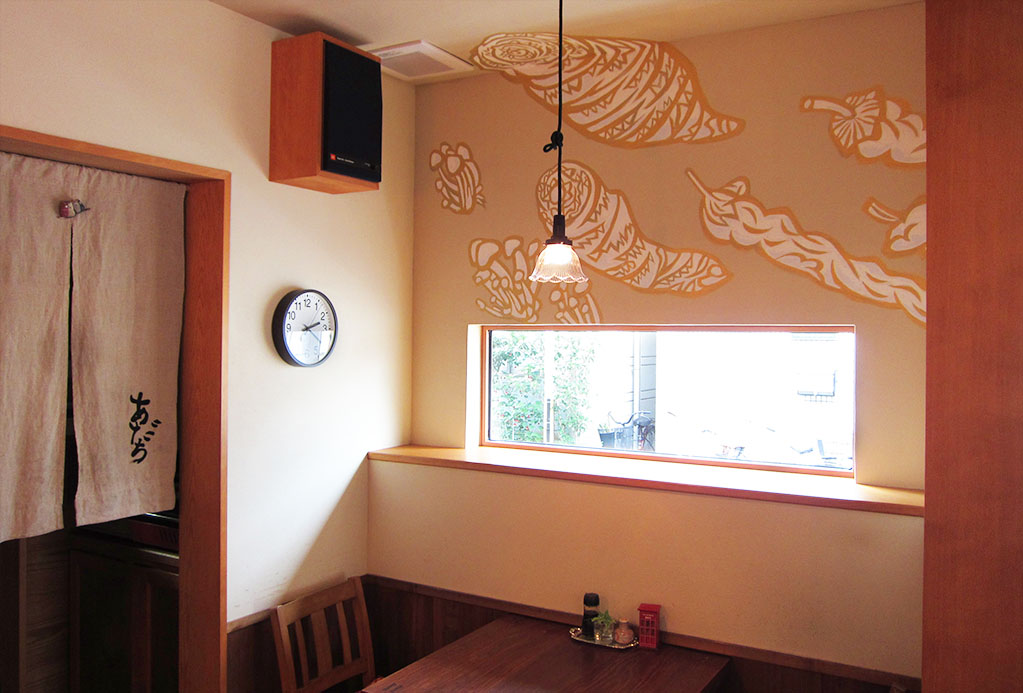 So when in Kyoto and not sure where to go for lunch or for dinner (you can enjoy sake at Adachi as well!) try obanzai, meet the lovely two generations of the Adachi-family and be amazed by Ki-Yan's murals!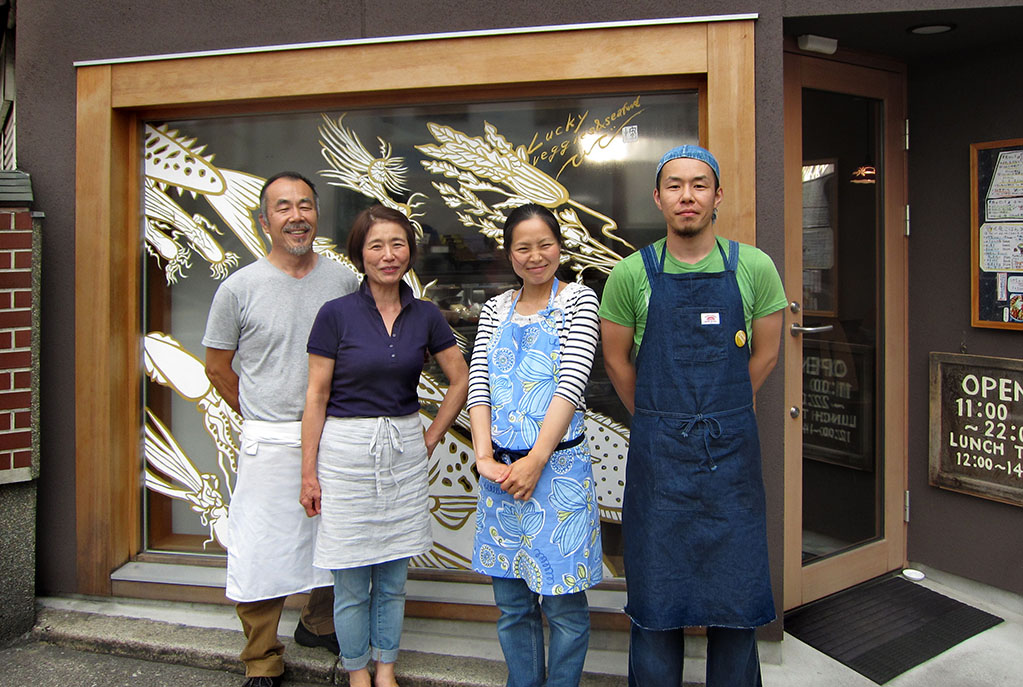 I hope you enjoyed the post and if you want more information about Ki-Yan and Washoku restaurants (more shop details, detailed maps in English etc.) grab a copy of the book Ki-Yan's Kyoto Food & Art, which is recently at Books Kinokuniya, MCA Store, Art Gallery of NSW, Gleebooks, Better Read Than Dead, The Cross Art + Books, and Radio Free Alice.
And for more info about the book visit:
The series Ki-Yan's Kyoto – Washoku restaurants, cafes & shops continue, Ki-Yan's Kyoto Part 5 is coming soon!