Photo by N.Ijichi
Today's post is part 5 of the series Ki-Yan's Kyoto – Washoku restaurants, café & shops this time introducing Takabashi Ramen – one of the oldest ramen restaurants in Kyoto.
In this series I am sharing with you some Washoku restaurants, cafes and shops located in Kyoto, which are introduced in my latest book Ki-Yan's Kyoto Food & Art Explore Kyoto through the Artwork of a Japanese Pop Artist, an English-Japanese pictorial guidebook featuring the amazing mural art by a contemporary Japanese pop artist Ki-Yan (Hideki Kimura). Just before moving to Sydney, while still in Kyoto I encountered Ki-Yan and his spectacular artwork that eventually resulted in collaborating on this book. You can find more information about the book and my other works on happydarumacreative.com
The book is recently available in a number of Sydney's bookstores, so check it out!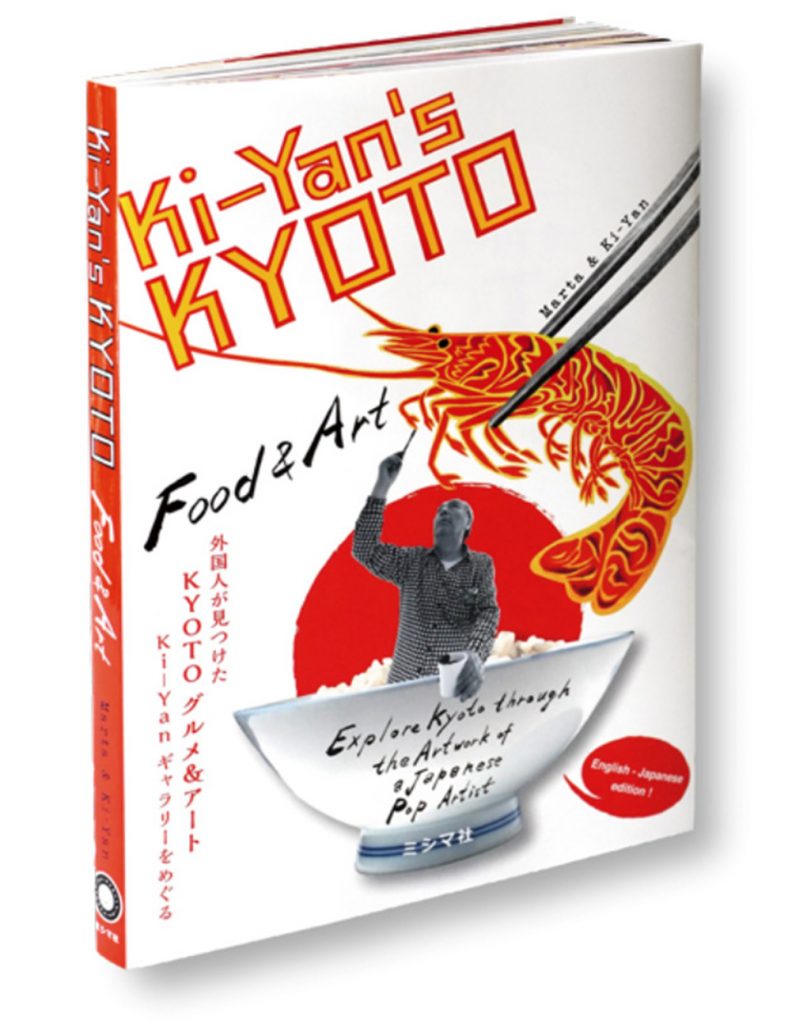 If you ever travel to Kyoto, you will have the opportunity to enjoy a different "face" of Kyoto – not only the delicious Japanese food in these restaurants but also experience the dynamic, colourful, and contemporary yet still inspired by tradition, unique murals by Ki-Yan!
Takabashi Ramen is a famous chain ramen restaurant in Kyoto and you can find the main store, Takabashi Honke Daiichiasahi, located a few minutes walk from Kyoto Station, but for a special 'art & food' experience I would recommend going to Takabashi Ramen BiVi Nijo-branch. Like the family-owned restaurant Adachi from the previous post, the BiVi Nijo-branch is a perfect choice to sample a delicious ramen bowl for lunch or dinner if you are sightseeing Kyoto's Nijo Castle or strolling around the area. The restaurant and is conveniently located inside the JR Nijo Station building.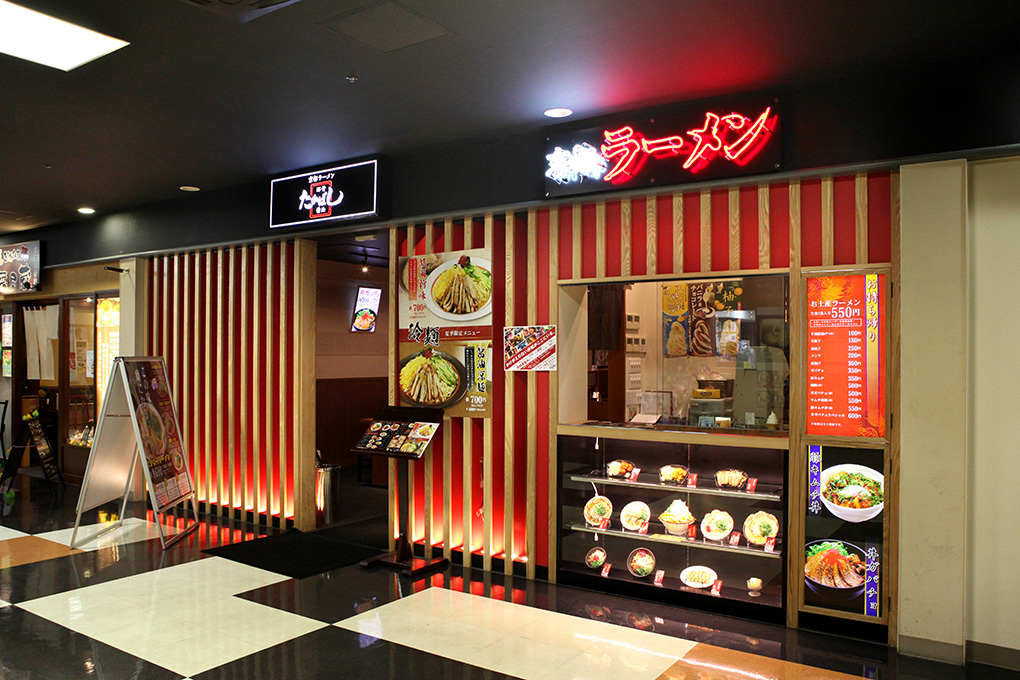 Upon entering the ramen shop, a laminated menu is given to you to help pick your ramen. It is in Japanese and English, so is easy enough just to point to what you want!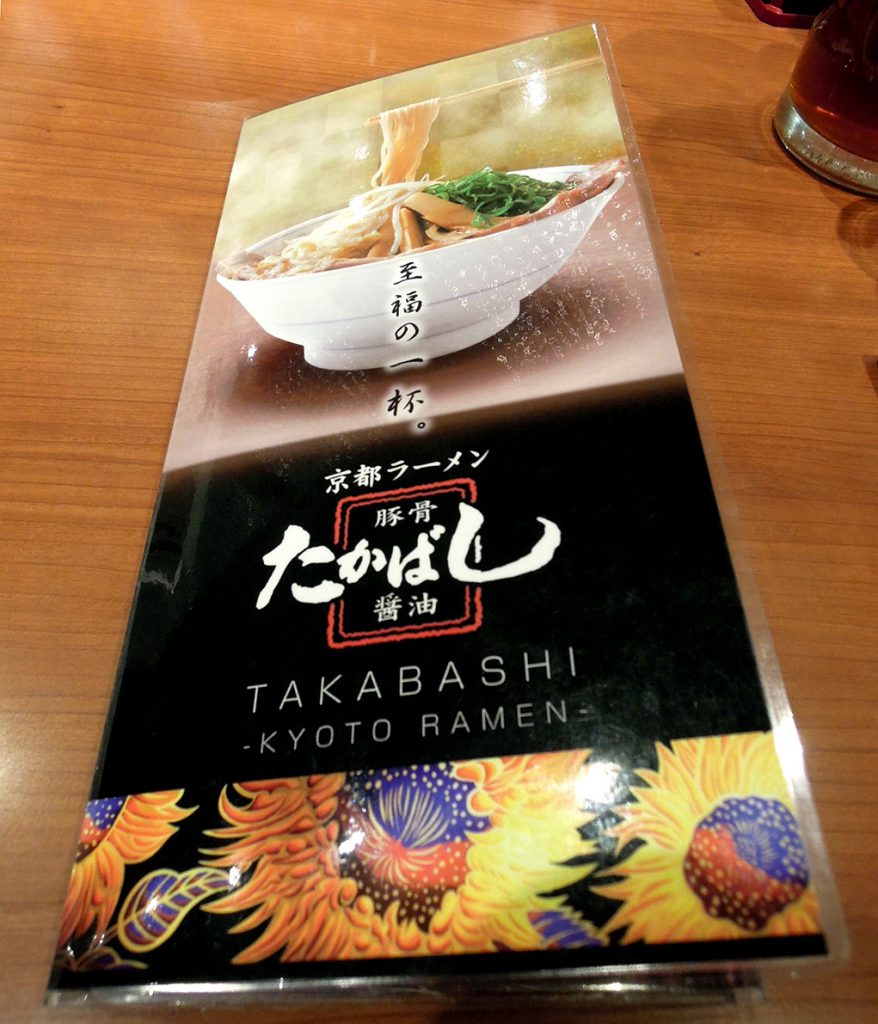 Open for more than 50 years, the popular Takabashi Ramen restaurant is one of Kyoto's oldest ramen shops and is known for serving straight noodles with shoyu-based tonkotsu (pork bone) soup. Following renovations in 2013, the BiVi Nijo branch now features Ki-Yan's dynamic "Sunflower" artwork painted on the mirror wall just opposite the entrance, which enhances the customer's ramen experience and adds some style to the eatery's motto of 'cheap, quick and delicious'.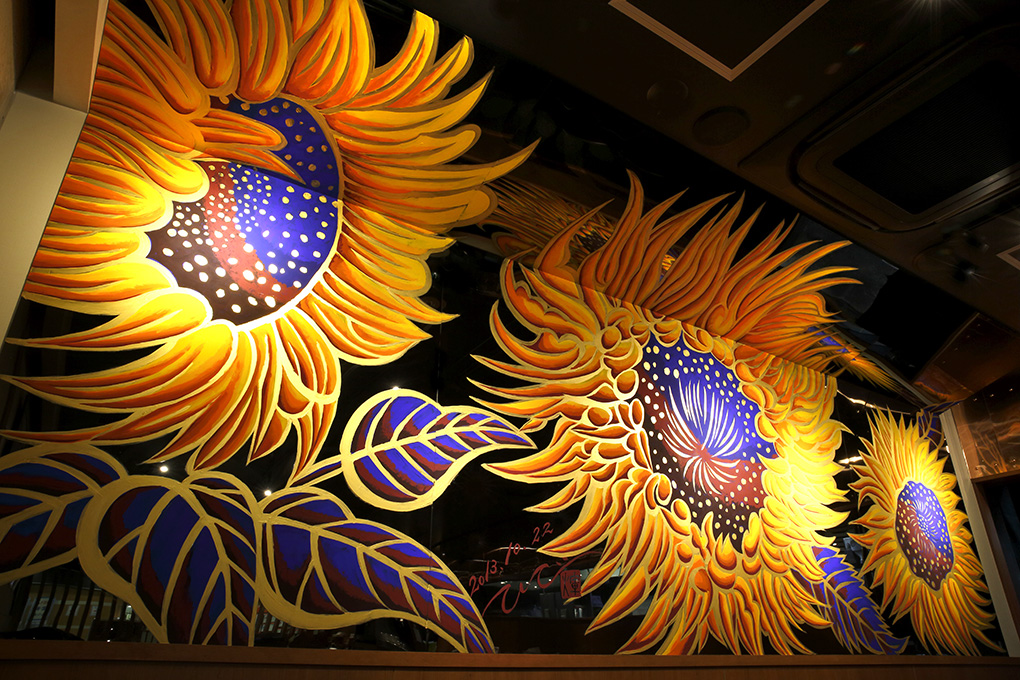 Photo by K.Uchida
Though the restaurant has long been extremely popular among local ramen fans in Kyoto, the vibrant atmosphere created by Ki-Yan's artwork has helped to increase Takabashi Ramen's popularity among an even wider range of customers.
Takabashi Ramen offers four basic types of ramen:
Takabashi Ramen with shoyu based tonkotsu clear soup
Jukusei Miso Ramen with miso based soup
Hono Ramen ('Flame Ramen'- shoyu based tonkotsu clear soup with chilli)
Takabashi Shinaji ('Takabashi New Flavour', white soup)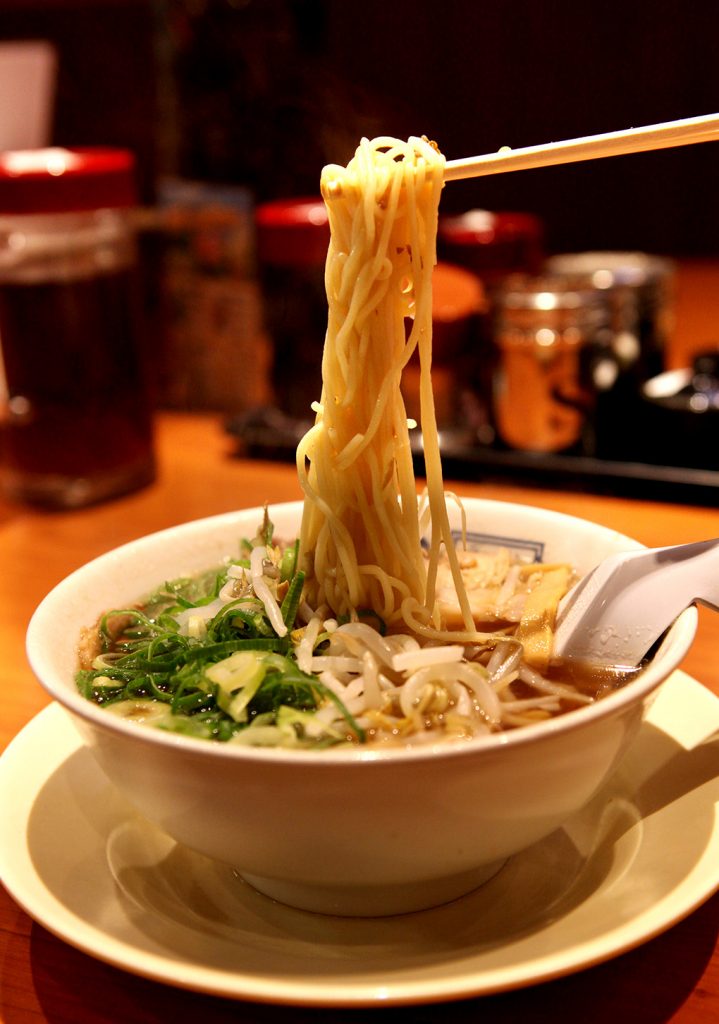 Photo by N. Ijichi
One of the most popular ramen, with an unchanged recipe since the shop opened, is Takabashi Ramen – an assari-style (light) ramen with shoyu and tonkotsu soup.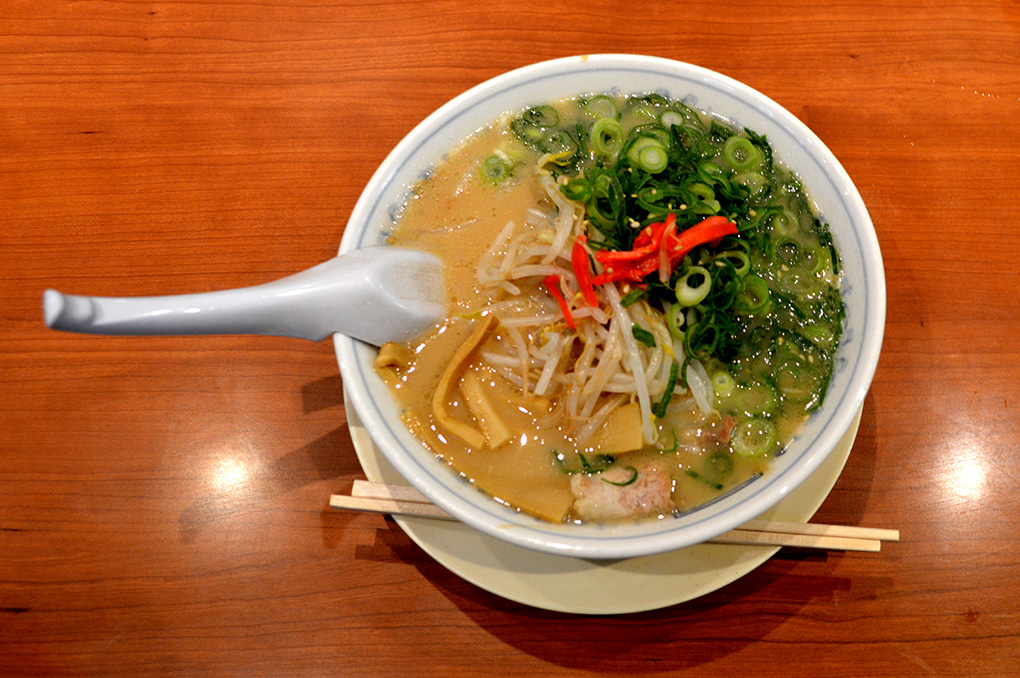 You may opt for the white version – Takabashi Shinaji.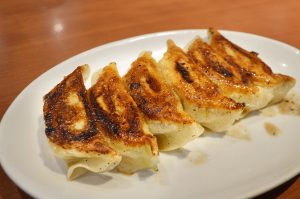 Takabashi Ramen's homemade gyoza dumplings are perfect as a side dish.
Another standard side dish of Takabashi Ramen – Gabacho, a kind of chashu pork (braised caramel pork belly).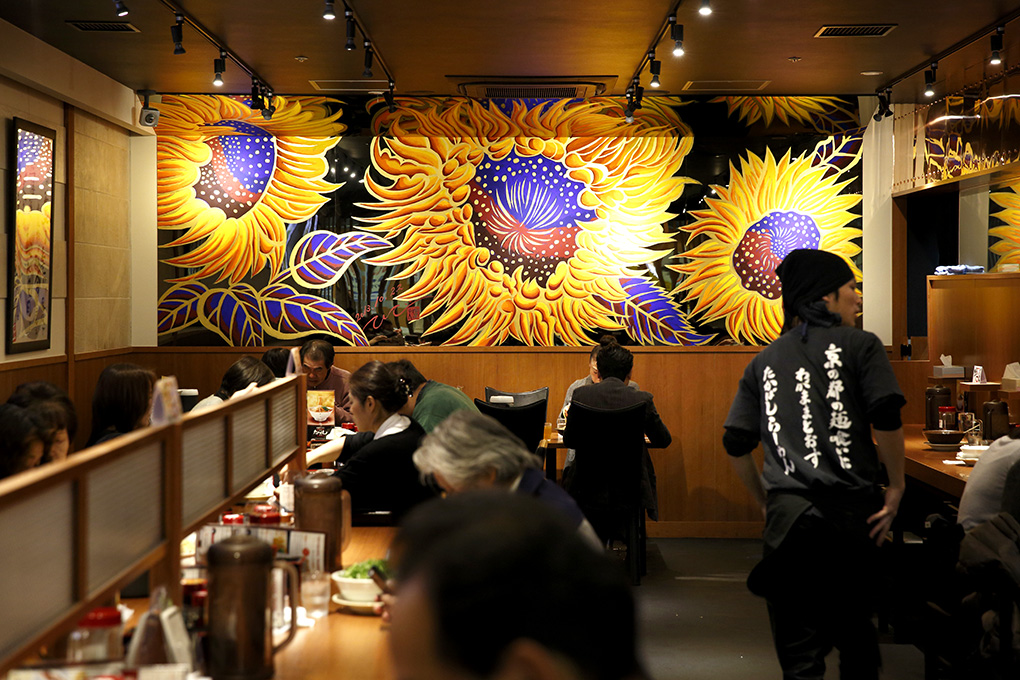 Photo by K.Uchida
So while in Kyoto, and not just if you are a ramen fan, head to this modern ramen restaurant to experience the delicious noodles at an affordable price served by polite yet energetic staff, and to see Ki-Yan's sensational "Sunflower" painting!
I hope you enjoyed the post this time too and if you want more information about Ki-Yan and Washoku restaurants (more shop details, maps in English etc.) you can get Ki-Yan's Kyoto Food & Art, which is available in Sydney bookstores: Books Kinokuniya, MCA Store, Art Gallery of NSW, Gleebooks, Better Read Than Dead, The Cross Art + Books, and Radio Free Alice.
And for more info about the book visit:
The series Ki-Yan's Kyoto – Washoku restaurants, cafes & shops continue. Ki-Yan's Kyoto Part 6 is coming soon!