On the 8th October 2016,  I attended Sushi Samurai's 10th Anniversary at Pyrmont. Sushi Samurai celebrated with discounts on a few of their dishes and 2 tuna cutting shows. Knowledge, skills and technique is needed to cut up the tuna perfectly, without wasting any of the flesh and to get the correct cut.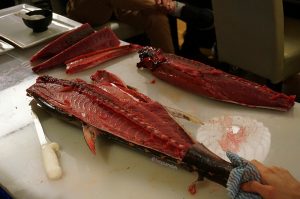 On the night we learnt many new details about tuna, such as how they pick the fish to buy, where to cut it, what section has the most intense flavours or the highest fat content. The flesh closest to the vertebrae is where the flesh is the darkest, yet has the deepest flavours concentrated there, as this area is constantly active because Of constant swimming.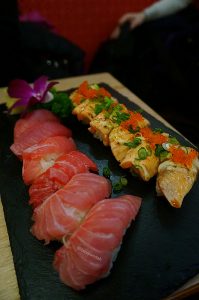 Once the tuna show was over, I ordered the toro, chu toro and otoro to compare the three. The texture and taste slightly differ, but all leave me craving for more. We also ordered the Aburi Salmon sushi, which was my personal favourite dish of the night.
We also ordered many other dishes that night to celebrate the 10th birthday of Sushi Samurai, such as their Samurai seafood salad, sashimi platter, miso grilled eggplant, vegetable tempura, scampi sushi and to top it all off, we got their chocolate lava cake to end our night. All the seafood was very fresh and delicious and the tempura has a light batter which creates the perfect crispy, crunchy texture while locking in the flavours of the vegetables. The chocolate lava cake was divine, it was not too sweet which made it perfect to have with some tea.
Samurai Sushi Pyrmont
1/16-30 Bunn St, Pyrmont, 2009
Opening Hours:
Lunch (Mon-Sat) 12 – 2:30 pm | Dinner (Mon-Sun) 5:30-10pm