Hello WASHOKU LOVERS!!
I am honored to join Washoku Lovers as a Washoku Lovers Kitchen Instructor.
My name is Kanako Wada, and I'm from Kobe, Japan.
I started cooking when I was 8 years old, starting with helping my mother cook.
Of course, I couldn't cook well at the beginning, but my family ate my sad dishes and said, smiling, "美味しい、ありがとう。(It's tasty, thank you.)"  and it made me feel that I want to improve my cooking skills more and more for my family.
From then up until now, I've kept cooking for somebody's smile.
I like to see people's smile and  "Wow!!" face 🙂
My cooking is a little bit different. It's not only about being delicious but also beautiful, cute or something surprising!
If I'm cooking for my friends, I'll usually make kazari decorative sushi. Depending on if I'm in Japan or Australia, I'll make different shapes though. When I'm in Japan, all the children ask me to make sushi with Anpanman's face, but if I'm in Australia, making koalas is a guaranteed way to get people laughing and smiling.
One thing I want to do with my sushi is put my friends' faces in it, and give it to them as a present. Or even do their pets' faces. I think it'd be really cute. When I come up with an idea for a new shape, it'll usually take me about 40 minutes to put it all together if I have all the ingredients together.
It might surprise you, but making a heart shape is actually quite difficult.
If I'm not making kazarizushi, then I like to bake things like cookies, or make sweets. I've made lammingtons before – it's always interesting trying to make local foods.
And one more thing I really enjoy, I have a passion for Japanese alcoholic beverages, not only sake, but also shochu and Japanese whisky!!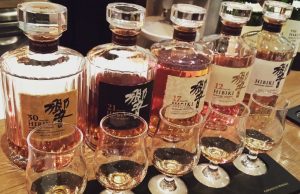 This winter (the summer just past in Australia), I travelled to Yamaguchi to study and experience sake brewing.
I'm looking forward to sharing the smiles and "Wow"experiences with you all in the Washoku Lovers Kitchen!!
I would like to introduce Japanese drinks and cooking here on the Washoku Lovers Blog. Please look forward to my future posts!
Cheers!!
To participate in Chef Kanako's first class, click here.